The d-GMM is a single channel Ground Movement Monitor that can be used to measure deformation or displacement in many different configurations. The instrument is designed to measure extension although since the shaft is flexible it can accommodate eccentric loading or shear. The d-GMM can be configured as a crack monitor or can be used for structural monitoring of shafts, headframes or barricades or as a closure station.
The d-GMM, is a magnetostrictive displacement sensor with a resolution of 0.01mm and a range of 145 – 290mm. The non-contact sensing technology is completely sealed against the environment and is fully temperature compensated. It has an on-board microcontroller running YieldPoint's proprietary d-Tech signal processing and transmission technology to provide a high precision single point displacement sensor.
The microcontroller provides linearization, temperature compensation and outputs an ASCII encoded RS485 signal digital signal. Output signals can be transmitted over 250m/900ft without distortion. Each instrument is individually calibrated to ensure that the resolution (<0.01mm) and accuracy (0.25% typical) are an order of magnitude better than for similarly priced technology.
The digital form of the signals eliminates the necessity for expensive analog-to-digital conversion and results in low cost monitoring peripherals that output data in real world units (mm and degC). The instrumental is fully compatible with BluLink, BluLogger, BluGateway and d-Mesh.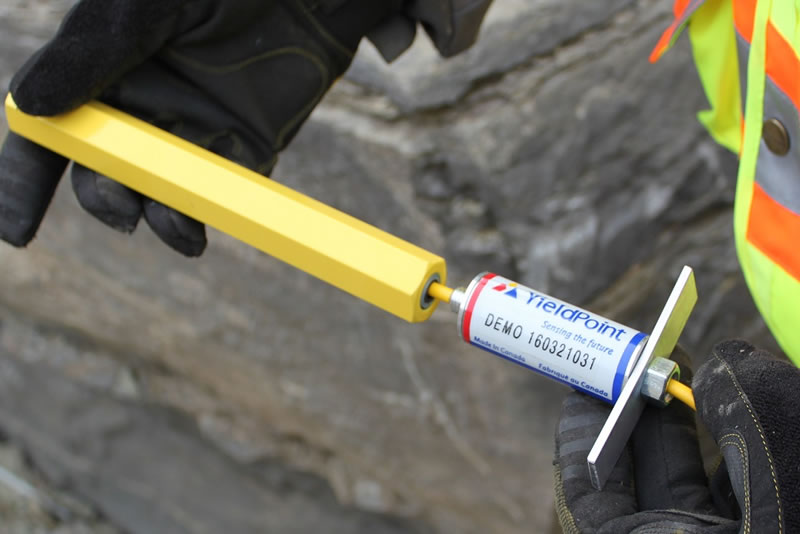 Specifications:
Borehole size: 30mm+
Core Technology: magnetostrictive displacement sensor
Output Signal: RS485 serial (9600,8,N,1) ASCII-encoded digital signal.
Stroke (F.S.): 145mm, 250mm. Temp: -40 to 125°C
Displacement Resolution: 0.01mm with hand held readout
Displacement Linearity: typically 0.25% F.S
Displacement Accuracy: better than +/- 0.5mm.
Temperature Range: –40 – 125°C
Temperature Accuracy: +/- 2°C –Digitally trimmed at 0°C and 25°C
Temperature Resolution: 0.1°C
To order please specify:
Lead wire length
Lead wire polyethylene cover length
Features:
Individually calibrated for highest accuracy
High accuracy (0.5% FS) and resolution (0.01% FS)
Digital (d-Tech) 145mm stroke length
Individual calibration with coefficients stored in memory
RS485 Output signal (9600, 8, N, 1) ASCII encoded
Micr°Controller provides output in real-world units (mm and °C)
Unique ID facilitates plug-and-play networking
Digital temperature sensor for accurate compensation
Magnetostrictive, non-contact technology for immunity to hostile environments
Easy to interface with data loggers (BluLinks, BluLoggers and BluGateway), for Ethernet/WiFi and LTE-M  and backhaul
Competitively priced
Datalogging:
Data from the d-GMM can be collected using YieldPoint's BluLink, BluLogger and BluGateway (30,000 readings) dataloggers . A population of  instruments can be monitored over BT5. The data-loggers require no configuration meaning the d-GMM is   fully interchangeable with any other type of YieldPoint instrument.
Telemetry:
Clusters of (i) wired or (ii) BT5 enbled instruments (4 per BluLogger) can be  monitored using d4BluGateway.  Wifi/Ethernet or LTE-M BluGateways  can autonomously backhaul readings to cloud based storage and visualization platforms (VantagePoint).
Configuration and local data download are provided by the the BluPoint App.
Case Study 1: Monitoring rock bolt loading at mid-pillar
YieldPoint's d-GMM is becoming widely used to monitor movements in salt and potash mines. The hermetically sealed design resists the harsh environment. The d-GMM can be configured as either (i) a closure station, or (ii) a roof monitoring station. Alternatively the d-GMM can be used to monitor any structure that may be moving and potentially unstable. Increasingly YieldPoint is providing salt and potash mines with 900MHz d-Mesh telemetry which transmits particularly well in room and pillar mines.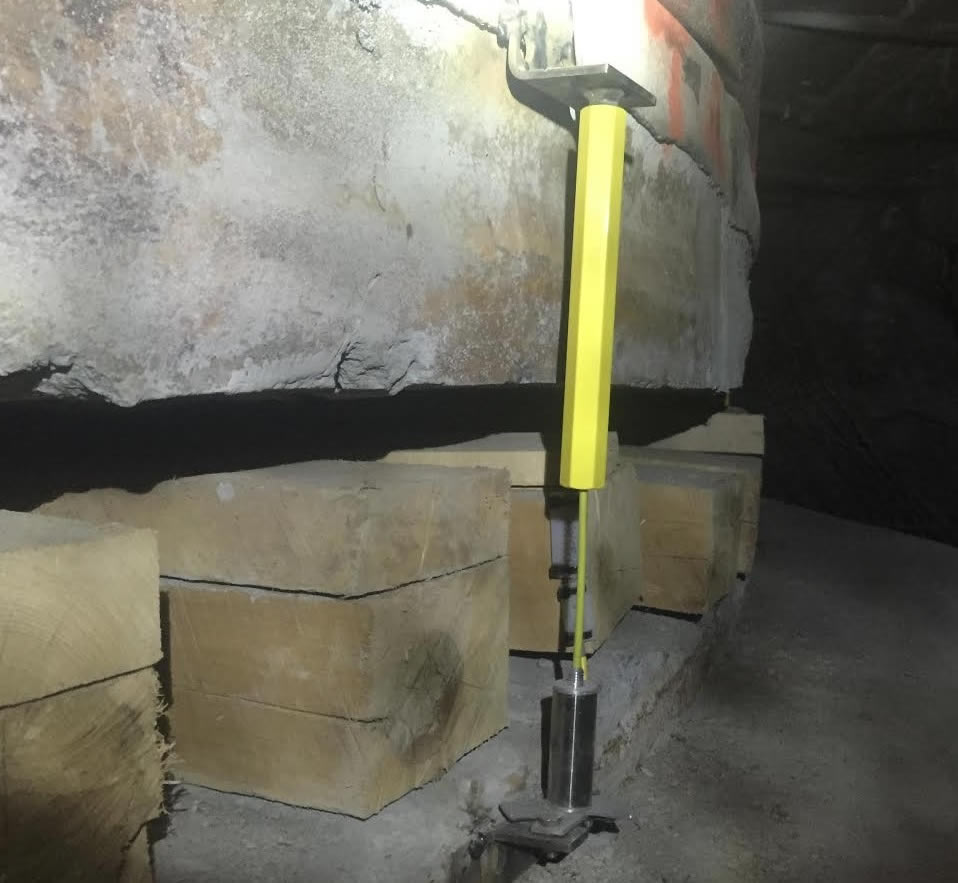 d-GMM monitoring a structure in a potash Mine.
Displacement measured by d-GMM in mm. The data is collected using d4loggers.