In situ testing the integrity of rock bolts is essential to ensure the safety of underground excavations.
YieldPoint in conjunction with Marc Lamothe, formerly of Frazer and Jones Company frazerandjones.com, has developed a unit to accurately measure the in situ performance of rock bolts. The aim was to digitize underground pull tests so that graphs of load versus displacement could be developed during the testing process. This allows the test results to be aggregated before the testing team leaves a site, and reduces the potential for operator error associated with handwritten reporting. YieldPoint has sold the unit throughout the world and it is currently been adopted as the industry standard by many rock bolt suppliers such as Mansour Mining, DSI,
Jennmar Inc., and Epiroc  amongst others. Individual mines have purchased a system as part of their rock bolt Quality Assurance(QA) testing.
YieldPoint can provide both the electronics and hydraulics for the system. The electronics consists of displacement sensor, pressure cell and load cells which can monitor the displacement and load during the pull test. These are recorded by a DAQ (Data Acquisition unit). Data is transmitted from the DAQ to a Windows TM Tablet or laptop PC. The Pulltest software can be loaded on as many computers as required.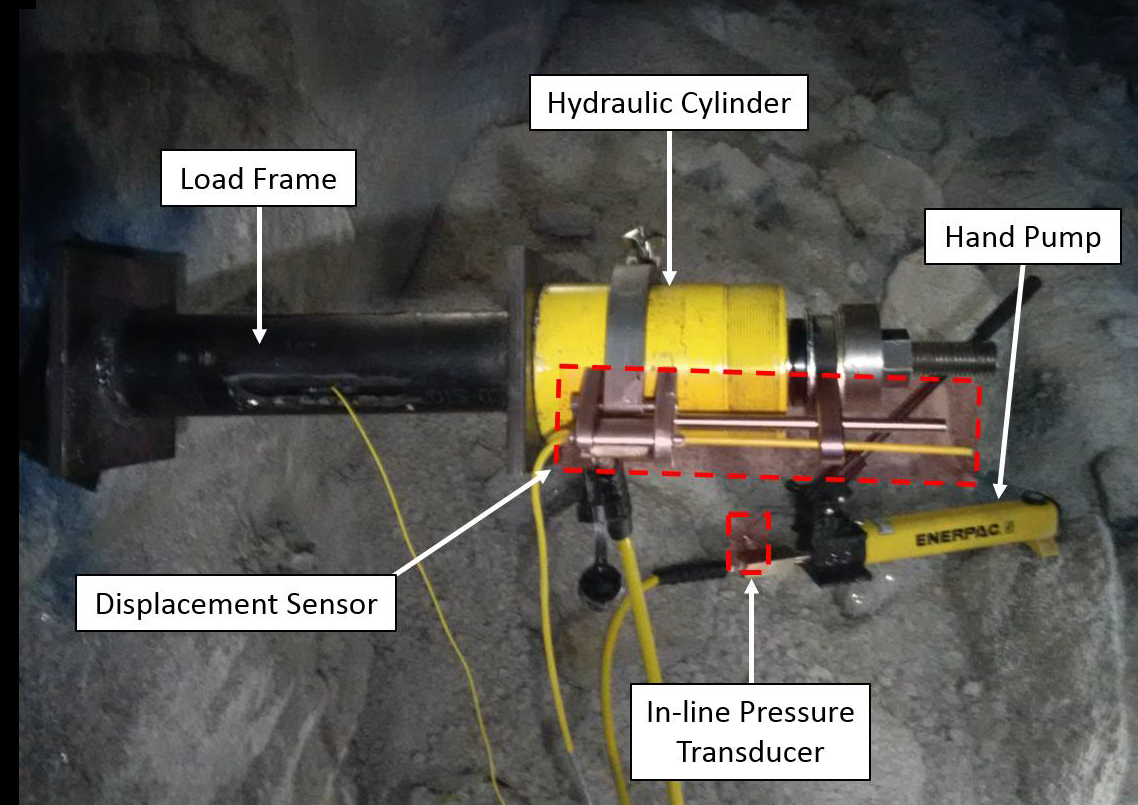 Features:
Digital acquisition of Load and disp-lacement during QA pull tests
Windows based laptop of tablet software to display pull test data in real time
Rapid reporting or data export to Excel.
All readings stored in local Access TM database
Hydraulics:
Enerpac Cylinder: RCH202, 206,
302,or 306, RACH 306. Please specify.
Enerpac hand pump, Typ P-391.
Technology:
Magnetostrictive displacement sensor with 148mm (standard( or 200mm displacement)
10,000psi (69MPa) in-line pressure cell
100,000lbf (444kN) or 50,000lbf(222kN) donut load cell (optional)
Data Acquisition with 1/reading/sec with capability for auto-zero.
Enerpac Hyraulic system with RCH or
RACH hollow cylinder.
Optimized for Windows 10 running on either a laptop or tablet. Free and downloabale onto any number of computers.
Specifications:
Displacement Sensor:
0-148mm magnetostrictive
displacement sensor (x2 standard). 200mm optional.
In-Line Pressure Sensor:
0-10,000psi 0.5-4.5V output.
Donut Load Cells:
0-220kN or 0-440kN  –Full Bridge output.
DAQ:
3 channel 12 bit  –   Disp1, Disp2 and Pres
1 channel Full bridge input (0-100mV) Load
Operates off 9V battery.
Evolution of the PullTest Unit
YieldPoint's pulltest unit represents a collaborative effort to develop a solution to collect load and deformation data in real time during a pull-test on rockbolts and cable bolts. Initially the methodology was established for testing the in situ bond capacity of cable bolts in the 1990's during research at Queen's University. In the 2000's, funding and engineering support was provided by Frazer and Jones of Syracuse, NY, under the guidance of Marc Lamothe.
In the 2010 YieldPoint has worked collaboratively with partners such as Jennmar, DSI and Epriroc to improve the product. Based on feedback the product has been incrementally improved and during 2019 a new Bluetooth 5 version was introduced which has further popularized the product.