YieldPoint draws on its 20 years of experience designing high quality instrumentation and telemetry to present a paradigm shift for monitoring of ground movement, especially in destructive underground situations. The BluEXTO is a fully integrated displacement measurement, logging and telemetry solution with 8 years battery capacity. The borehole extensometer has up to 6 anchor points each with measurement resolution of 10 microns over ranges up to 250mm.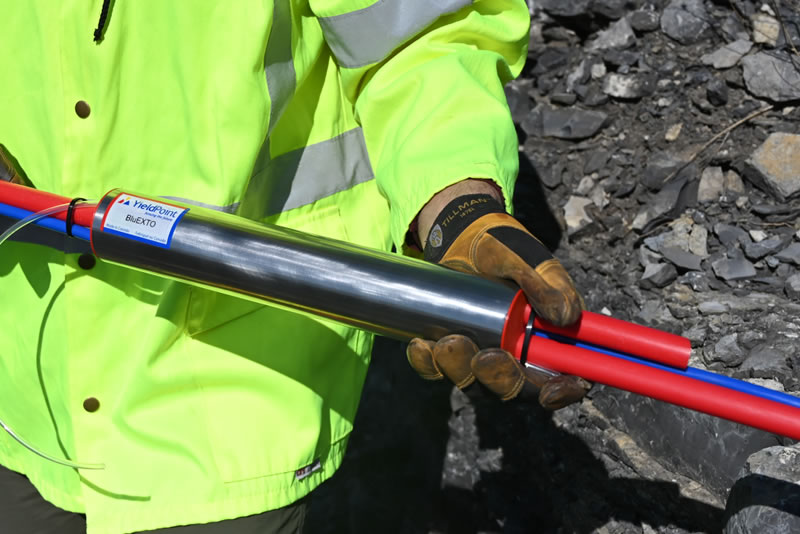 Features:
The extensometer is a 6-point borehole extensometer with measurement resolution of 0.1mm and stroke length up to 300mm.
Integration includes a grout hose, a breather tube and a foaming tube which greatly simplifies the installation procedure. The diameter of the head is 57mm or 2.25" and the device is designed to be installed in 63mm or 2.5" boreholes (ask about smaller diameters).
The maximum diameter of the instrument is only 25mm including the electronics head that can be recessed into the borehole (>50mm) for protection.
Integrated into the BluEXTO head is a data-logger that can store 30,000 measurement, battery capacity for 8 years and a Bluetooth 5 radio modem with a range up to 100m. The device comes configured with a PCB antenna, and a whip antenna can be added for slightly better range.
The Bluetooth 5 radio beacons readings from the BluEXTO every 5s during its lifetime.
Specifications:
1-6 anchor points.
150-250mm (6-10 inch) stroke length with 0.01mm resolution.
Output in real world units: mm.
Robust design with filament wound fiber glass tube construction.
Multiple Stainless Steel rods maintained straight in fiber glass tube for maximum accuracy.
Materials chosen to minimize temperature sensitivity.
High individual sensor linearity (>0.25%FS) with calibration sheet provided.
Bluetooth 5 radio with 100m range (typical).
On board storage of 30,000 readings downloadable with Android device.
Arrive on site fully assembled and ready to install.
Sealed body: Use with high w:c ratio grouts.
Datalogging and Telemetry:
The BluEXTO design is based on a traditional multi-rod design (see below) which includes up to 6 LVIT (Linear Variable Inductive Transducer). The 6 custom stainless steel rods are housed individually in a custom filament wound fiberglass tube to maintain them perfectly straight and eliminate friction between rods. The individual rods are completely independent of one another and therefore if the distal rods are damaged by blasting the proximal sensors will continue to operate.
Each displacement sensor is individually calibrated and the calibration coefficients written to microcontroller memory. The BluEXTO can detect sub-mm displacements with 10μm resolution. Accuracy is enhanced by 2 reference sensors that provide temperature compensation. Second order compensation can be applied based on the on-board temperature sensor.
Onboard signal processing and linearization eliminates the cost of expensive analog-to-digital conversion. The BluEXTO is also a data-logger with storage of 30,000 measurements which can be configured using the BluPoint App from an Android phone or tablet. The BluEXTO will 'beacon' its readings every 5s during its 8 year lifecyle.