The d1Plucker and d4Plucker are small, low cost unit that instantly convert vibrating wire (VW) transducers such as load cells, stressmeters and piezometers, into d-Tech compatible instruments.
These VW sensors then become compatible with YieldPoint's data loggers and radios.
1 channel and 4 channel versions are available. d-Plucker enables YieldPoint's low cost digital peripheral devices to read (d-Reader), store (d-Logger) or transmit (d-Mesh) data from VW sensors.
The user simply connects the leads of the VW sensor to a terminal block housed inside the unit and then treats the sensor like any other YieldPoint d-Tech instrument. The unit outputs the temperature recorded by the thermistor in oC (0.1oC resolution) and the period of vibration of the wire in µS (0.1µS resolution).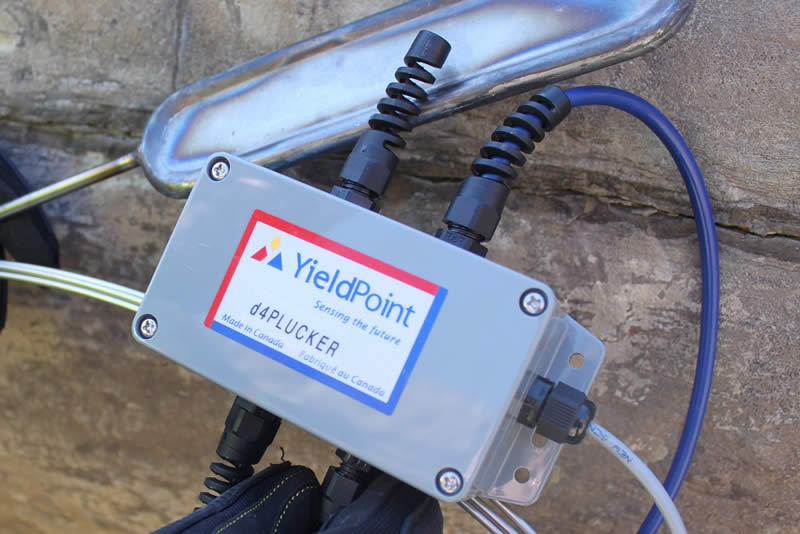 Features:
Plug-and-play solution for VW sensors
Inexpensive and versatile
Allows VW sensors to interface with YieldPoint d-Reader, d-Logger data-loggers and d-Mesh networks
500-6000Hz (0-5Vdc) square wave sweep. Output is in microseconds (µS) or in digits.
Temperature output from thermistor with 0.1C resolution.
Digital RS485 Output (9600,8,N,1), with Unique Instrument ID,
SensorType, and output data.
Specifications:
Range (F.S.): 166-2000µs period measurement, Temp: -40 to 125oC
Core Technology: 20MHz microcontroller providing 0-5V 500-6000Hz sweep
Output Signal: RS485 (9600,8,N,1) ASCII encoded signal comprising:
Unique Instrument _ID, Sensor_Type, Temp (oC) and Period (µS) data
VW Resolution: 0.1µs with hand held readout.
Displ. Accuracy: – better than +/- 1µs
Temp. Range: –40 – 125oC
Temp. Accuracy: +/- 1oC –Digitally trimmed at 0oC and 25oC
Temp Resolution: 0.1oC
Technology:
The d4Plucker uses a proprietary algorithm to locate the resonant frequency within the range 500Hz to 6000Hz. An internal switch is used to select 3 different frequency ranges based on the type of instrument used.
Using the d-Reader it is possible to quickly read the transducer. Using the d1Logger or d4Logger it is possible to log data from 1 or 4 VW sensors over a 100 day duration.
Using d-Mesh it is possible to transmit data over an existing TCP/IP network using either Ethernet or WiFi. A unique digital ID is assigned to each d4Plucker.
The output signal from the d-Plucker is a digital RS485 signal (9600,8,N,1) with ASCII encoded Sensor_ID, Sensor_Type, Temp and period.
Telemetry:
Manual Readouts:
Readout can be made using YieldPoint's low cost manual interrogation unit (d-Reader), with a backlit LCD. The Unit displays the Sensor_Type and Sensor_ID and outputs the temperature and VW data directly in oC and µs.
The d-Viewer Module provides USB connectivity so that the d-Plucker can be read with using a LapTop or Tablet (d-Tab) PC. If power is available a low cost NetBook computer can be transformed into a data-logger.
Automated Data Retrieval:
The d-Logger (32Mb of memory) can collect up to 10,000 readings from the d-Plucker over a period up to 1 year. Download to a PC is with a USB download cable (order separately).
Plug-and-Play networks of instruments can be created using YieldPoint's d-Mesh technology. A low-cost d-Mesh node can connect 4 instruments to a TCP/IP network over Ethernet or WiFi. This solution saves time and money by transmitting data directly to an engineer's desktop computer.
Applications:
Monitoring pillar stress changes using vibrating wire BPCs.
Monitoring pillar stress changes using vibrating wire stressmeters.
Monitoring strain in structural elements using welded vibrating wire strain gauges.
Monitoring the loading of structural elements such as posts and pillars
Monitoring piezometer arrays.
Measuring stress changes in a Secondary Rock Pillar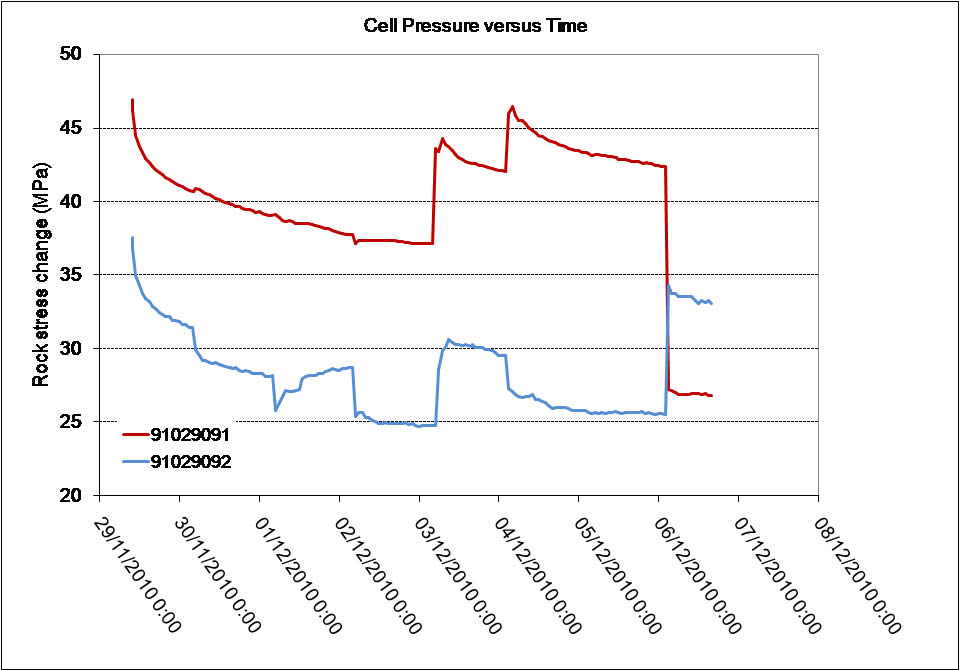 Measured stress changes by two orthogonal Borehole Pressure Cells installed in production hole for a secondary stope pillar. BPCs attached to d1Plucker ( red -longitudinal orientation, blue- transverse). Recorded with d-Logger data-logger.