YieldPoint recognizes that in many mining situation fast deployment of an ungrouted borehole extensometer is advantageous. The d-MPBX is a unique 1 to 6-Point Multiple Point Borehole eXtensometer (MPBX) based on a single rod design. The anchors are fitted with stainless steel extension springs that secure the instrument in a 38-50mm borehole. The d-MPBX incorporates digital signal processing to result in dramatically improved accuracy compared to similar priced existing technology.
Design features of the d-MPBX involves a stiff hermetically sealed and potted central core that includes all of the electronics. The anchors are a simple aluminum tube to which are attached extension springs that positively attach the anchor to  the borehole wall.
The inherently digital nature of the signals eliminates the necessity for expensive analog-to-digital conversion and results in low cost readout unit that reads data directly in real world units (mm and °C). The signals themselves are robust and can be transmitted over 500m of lead-wire. If broken the lead-wire can be twisted and taped together. The sensor output is an ASCII (9600,8,N,1) digital signal which can be read by a low cost readout unit (d-Reader), dataloggers (BluLink and BluLogger), and wirelessly networked (BluGateway) for transmission to cloud based servers. The signals themselves are robust and can be transmitted over 500m of lead-wire. If broken the lead-wire can be twisted and taped together.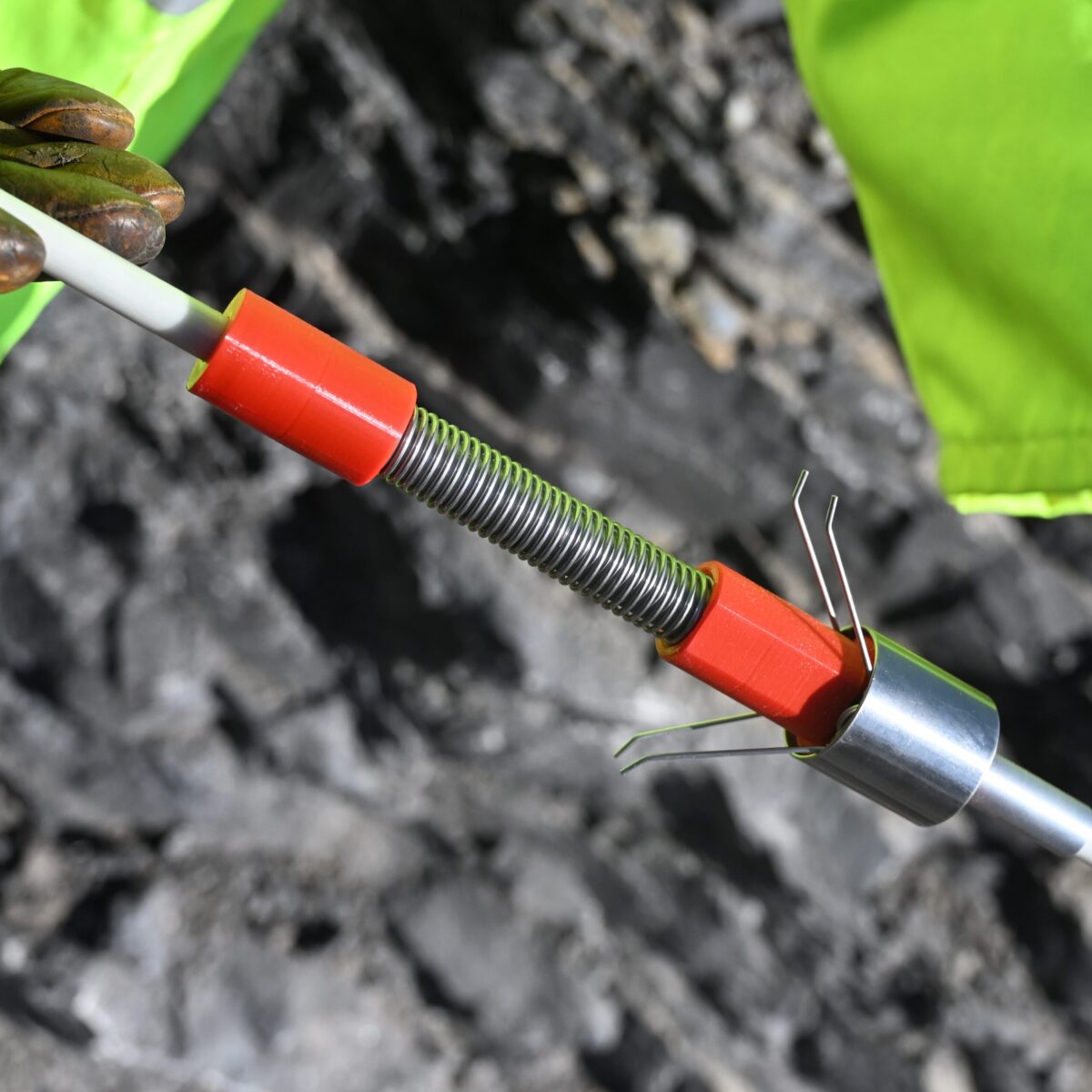 Specifications:
'Robust' design with high strength filament wound fiber glass core
Up to 6 spring loaded anchors
Does not require grouting
150mm (6 inch) stroke length
High individual sensor accuracy (0.3%FS) and resolution (0.01mm)
Output in real world units
Unique instrument ID
Calibration Coeffs. in Flash memory
Smallest electronics head (25mm diameter 150mm long)
On-board digital temperature sensor for accurate compensation
High survivability following blasts and vibration even if toe is damaged
Easy to install and maintain—Arrives on site fully assembled
Advantages:
Key Feature: Fully integrated and preassembled borehole extensometer
Dimensions: 25mm diameter can be placed in 33-50mm hole.
Dimensions: Up to 6 Anchor points over lengths up to 30m
Disp. Range: 125, 150 (standard), 200 and 250mm.
Disp. Accuracy: typically 0.5% F.S(<10m) and 1% linearity (>10m). Depends on distance between anchor point and head.
Temp. range: -40 to 125 °C
Output Signal: RS485 with transmission up to 500m over 2 x tp.
Output Signal: Asynchronous serial signal – 9600,8,N,1. ASCII encoded.
Values and units transmitted.
Datalogging:
Data from the d-micro can be collected using YieldPoint's BluLink, BluLogger and BluGateway (30,000 readings) dataloggers . A population of  instruments can be monitored over BT5. The data-loggers require no configuration and are fully interchangeable with any other type of YieldPoint instrument.
Telemetry:
Clusters of (i) wired or (ii) BT5 enbled instruments (4 per BluLogger) can be  monitored using d4BluGateway.  Wifi/Ethernet or LTE-M BluGateways  can autonomously backhaul readings to cloud based storage and visualization platforms (VantagePoint).
Configuration and local data download are provided by the the BluPoint App.
Results and Data Analysis for a d-MPBX.
This presentation outlines the results from a d-MPBX installed in a salt mine. Annual variations in roof velocity are detected with higher rates of movement in the humid summer months. Analysis of the d-MPBX data revels that this is only a skin effect localized close to the excavation surface. The deeper movements indicate an almost constant , albeit stair-cased, long-term rate of movement versus time.