Continuous monitoring of geotechnical instruments will add significantly to the value of the data collected for a small additional investment. Even at a rate of 3 readings per day, a continuous dataset will enable engineers to establish cause-and-effect relationships between mining operations such as blasts or seismic activity and geotechnical behaviour. This in turn will generate confidence in the data and will result in higher return on investment.
The d4Logger is a compact four instrument plug-and-play datalogger for YieldPoint digital instruments. The logger is powered with 4 x D-cell batteries and has memory for up to 10,000 readings. Data is downloaded using the USB download cable (purchase seperately) and the d-LOG software on any WindowsTM PC, laptop or Tablet (d-TAB). It can be wirelessly enabled with a d-Mesh node.
Features:
Inexpensive plug-and-play data logging solution for 4 instruments
Stores 10,000 instrument readings each with up to 10 channels
Up to 40 channels of data
4 x D-cell Battery powered lasts up to 1 year at 1 reading every 8hrs
Reading rate 1 per minute to 1 per day
USB download cable (order seperately)
Mesh wireless functionality with d-Mesh node
Ethernet enable with IoT GateWay
Tough and immune to hostile environments
Individual deployment on each instrument
Single sensor configuration
Lowest cost data-logging solution
Technology:
The d4Logger is powered by 4 x D-cell batteries. It automatically enters into sleep mode between measurements so that the battery can last up to 1 year when taking 3 readings/day. Even then if battery power is lost the data stored will be retained. 32Mb of Flash memory will collect 10,000 readings with up to 10 channels. A 3V coin cell battery is used to maintain power to the on-board real-time clock.
Data from the d4Logger is downloaded to .txt files using the free d-LOG software. One data file is created per instrument and it is named after the instrument's digital ID. No confusion is possible between the data sets coming from different instruments, even of the same type, connected to the same logger. Further data sets are simply appended to the original data files. These can easily be imported into Microsoft Excel or any database package, and are fully compatible with YieldPoint's free MineScope database. Wireless download can be implemented using the d-Mesh node.
USB download cable:
The USB download cable connects the logger port to a PC, laptop or tablet.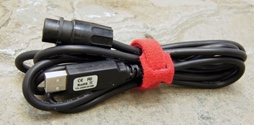 The USB cables requires FTDI driver to be loaded on the download computer.
Wireless download:
The Com port of the d4Logger can be connected to a d-Mesh node to provide wireless capability.